Expand Your Education
myCHOICE Mini-Courses
The goal of myCHOICE Education programming is to help you develop specialized skills and knowledge through mini-courses and workshops. Designed and adapted for doctoral and post-doctoral trainees in fields relevant to the biological sciences, our education offerings range from five to fifteen hours in length and are generally held in the evenings or spanning consecutive weekends to minimize the disruption for myCHOICE Trainees' research activities.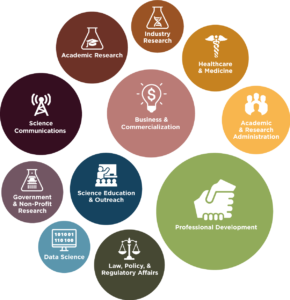 Winter 2020 Mini-Courses


.



Registration deadline: Registration is now closed.
…
*Note, if you are unable to register through the GRADGargoyle/Symplicity system, please contact us and we will register you.
…
Requirements and Expectations of Education Participants
You must be a myCHOICE Trainee in order to enroll in mini-courses. Become a myCHOICE Trainee by completing the Trainee Application.
Mini-courses are open to all postdocs and to graduate students who have proposed their theses (or have explicit permission from their Dean of Students).
By enrolling in a mini-course, the Trainee is committing to attending ALL sessions of that course.
By enrolling in a mini-course, the Trainee agrees to promptly complete surveys related to the course and to participate in NIH-administered tracking of myCHOICE Trainees.
If you attend all sessions of a mini-course, you are eligible to request a Certificate of Completion.
The myCHOICE program, and the general feeling of positivity towards career exploration that is brings, has been instrumental in all of my job hunting processes and ultimately in my success in landing a job. I can confidently say that this absolutely would not have been possible without many of the opportunities from myCHOICE.
Andrew Kirkley, PhD '17, Graduate Student Alum