Expand Your Education
myCHOICE Mini-Courses
The goal of myCHOICE Education programming is to help you develop specialized skills and knowledge through mini-courses and workshops. Designed and adapted for doctoral and post-doctoral trainees in STEM disciplines, our offerings range from five to fifteen hours in length and are generally held in the evenings or weekends to minimize the disruption for myCHOICE Trainees' research activities.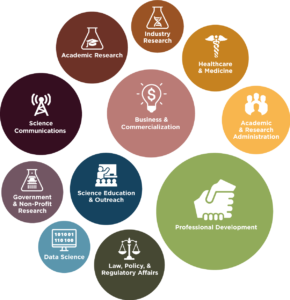 Summer Quarter 2020 Virtual Mini-Courses


.
REGISTRATION FOR SUMMER 2020 MINI-COURSES IS NOW CLOSED.
All sessions will be held by videoconference. By registering for a mini-course, you agree to fully engage in discussions, activities, and breakout groups, with your camera on. The registration fee for each course is $10.
Project Management Fundamentals for Scientists June 8, 9, 10, 11; 9 – 10:30 am
Strategies for Successful Team Management June 16, 18, 23, 25, 30, July 2; 9 – 11 am
Intro to Clinical Trials and Bayesian Designs August 11, 12, 13; 10 am – Noon
…
Requirements and Expectations of Education Participants
Our mini-courses are designed for graduate and postdoctoral trainees in the BSD, PSD, and PME, and registration preference may be given to that audience. However, most mini-courses are open to all community members, regardless of division, employment/training status, or university affiliation.
By enrolling in a mini-course, the Trainee is committing to attending ALL sessions of that course.
By enrolling in a mini-course, the Trainee agrees to promptly complete surveys related to the course.
The myCHOICE program, and the general feeling of positivity towards career exploration that is brings, has been instrumental in all of my job hunting processes and ultimately in my success in landing a job. I can confidently say that this absolutely would not have been possible without many of the opportunities from myCHOICE.