Communication and Collaboration in a Hybrid World
Step out of your comfort zone and develop a toolbox of concepts and principles which, through practice, will help you communicate and collaborate both online and in-person. This course is designed for scientists and researchers hoping better undertake challenging intellectual tasks in front of others, and when interacting with others when you wish to be sensitive and responsive to their perspectives and opinions.
Dates: tbd
Course capacity: 15
Course fee: $10
Instructors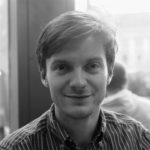 James Dolan, PhD, Research Fellow in Scientific Communication, University of Cambridge
Originally from Edinburgh, Scotland, James Dolan teaches physics and nanotechnology at the University of Cambridge. He is also the University's first research fellow in science communication, funded by King's College, studying how improv can be used both as a form of science communication training and as a way to engage the public with science. He is the co-founder of the science improv shows The Excited State, based at The Revival theater (Chicago) and Spontaneous Reactions, in Cambridge, UK. He is also the co-creator, -host, and -producer of the University's podcast, Mind Over Chatter.
Facilitator at The Revival, tbd