The Art of Successful Grantsmanship:
What You Need to Know Before You Write
.
The development of successful grant proposals has become more difficult in recent years due to increased competition for ever tightening funding lines. It is no longer sufficient to just have a good or even great idea.  The presentation of the idea is critical for its survival through very critical review processes that often vary between agencies and organizations.
This introductory workshop serves to train individuals from all disciplines in strategies for producing successful grants.  Instruction will include:
Strategies for professional engagement with the funding communities.
Navigating appropriate funding support mechanisms (federal, state, local, professional societies, private foundations).
Strategic planning for personal, professional, and institutional development and related funding.
Understanding the proposal review systems for government and private agencies, and how they inform proposal development and structure.
Developing appropriate and measurable objectives (professional, institutional etc.).
Strategies  (pre and post submission) that maximize the chances of success in funding.
Prior grant-writing experience is not required but the outline of an idea for funding in the form of a short abstract is advised to enhance active participation and to gain maximal benefit.
Course capacity: 100
Course fee: $10
Date & Time
Monday, May 13, 1:30 – 5:30 PM
Instructor
Anthony DePass, Academic Consultant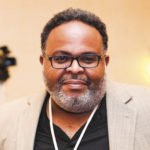 Dr. Anthony DePass is Professor of Biology at Long Island University, where he serves as PI and Director of the LIU MBRS RISE (NIH), and the LIU ADVANCE (NSF) programs and Co-PI of LIU's Noyce Teacher Scholarship program. Dr. DePass has nearly 20 years experience in grants and program management, and currently has over $5 million in active grants. He has a lifetime accumulation of nearly $20 million in external funding as PI and Co-PI. These include grants for biomedical research, and the administration of programs aimed at all levels of the development pipeline for scientists. Dr. DePass is also the lead author on assessment for the recently published Vision and Change in Undergraduate Education-A Call to Action. He is an external evaluator on several funded training programs, and through service on review panels for the NIH, NSF, USDA, and other non-federal organizations.
The workshop was very helpful in helping the audience understand the importance of the organization associated with grantmanship. The organization of the presentation was easy to follow. The program made taking notes easy. It was also very engaging.