Leadership Effectiveness and Development (LEAD)
The myCHOICE LEAD mini-course will offer a taste of the LEAD program at the University of Chicago Booth School of Business, which was one of the first experiential leadership development programs at a major business school and is continuously updated to adapt to the evolving challenges of leadership. The course is designed to enhance students' self-awareness and interpersonal effectiveness by providing them with an opportunity to benchmark themselves with respect to critical aspects of leadership – working in teams, influencing others, conflict management, interpersonal communication, presentation skills, etc.
Course capacity: 24*
Course fee: $10
Dates & Times
Wednesdays, May 2nd, 9th, 16th, & 23rd, 9 – 11:30 AM
Session Descriptions
Group Process
Each participant in this session works with a team to complete a shared task. The experience provides a vantage from which to understand different ways of engaging in teamwork. Participants have a chance learn more about how to adjust their own style of engagement to be more effective.
Personality & Leadership
This session uses a well-researched personality assessment as a way to describe broad behavioral patterns related to teamwork. Participants receive their results, participate in a collective debrief, and learn more about how these behavioral patterns relate to teamwork.
Influence on Teams​
A key challenge of work on teams is ensuring that your voice is heard. Participants will engage in a joint task require effective influencing strategies. The activity allows participants a chance to learn more about persuasion and particular influence tactics they can adapt to their own team situations.
Difficult Conversations: Conflict & Feedback​
The power of teams is that they can accomplish what no individual can do alone. One of the challenges, however, is that different perspectives and values can lead to disagreement. Participants in this session will learn more about how to navigate disagreements that lead to conflict and/or a need to provide feedback.
Instructor
Chris Collins, Associate Dean, University of Chicago's Booth School of Business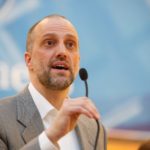 Chris Collins is an Associate Dean at the University of Chicago's Booth School of Business. In this role, he has responsibility for the leadership development activities for full-time MBA students, including the ground breaking Leadership Effectiveness and Development (LEAD) program. Mr. Collins also heads leadership development initiatives at the University of Chicago Law School and College.
*3/28/2018: Registration for this course has reached full capacity.  Further applicants will be waitlisted.